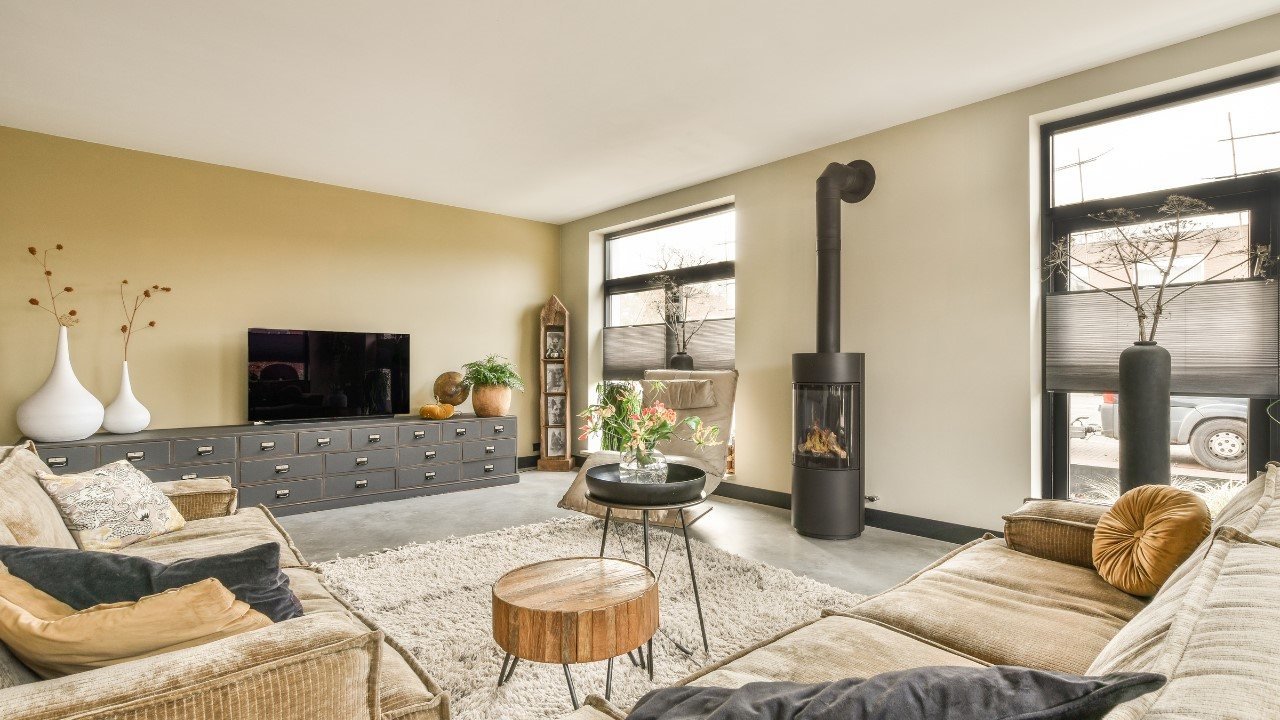 A cosy living room should exude warmth, comfort, and a welcoming ambience and be where family and friends can gather to relax, unwind, and create lasting memories.
Bear in mind; cozy living rooms involve more than just soft furnishings! Other factors, such as colour scheme and mood lighting, are crucial in creating a cozy feel for your living space.
If you want to transform your living space into a cosy haven, we've got you covered.
In this article, we'll explore various cozy living room ideas to help you create an inviting space that embraces relaxation and tranquillity.
Tips to Make Your Living Room Feel Cozy
Choose a warm colour palette
It's very important for everyone to understand that colours will set the tone for a room.
Our advice is to go for neutral tones. It's not just a stylish living room option - a neutral colour palette helps to create the perfect backdrop for your decor and furnishings.
Or, if you favour darker shades, opt for warmer, earthy tones like deep reds and warm browns and complement them with light and highly textured furniture and textiles.
These warm tones will bring a sense of comfort to your home and help you relax after a tiring day.
Layer with textures
Another key element to creating a cosy living room is layering different textures, creating an illusion of depth and adding visual interest to the space.
The easiest way is by investing in focal furniture pieces like a rattan sofa or coffee table.
Different combos of textures will make your living room cozy and inviting. For ultimate cosiness, consider a selection of throws in various hues that coordinate with your chosen colour scheme.
We highly recommend incorporating soft textures, plush fabrics like faux fur, velvet, knitted throws, and pillows on your sofas and armchairs to snuggle and lounge. You can also indulge yourself with wool and silk fabrics.
Want a more luxurious feel? No problem! Add a high-pile rug to appear more stylish and bring warmth to the floor.
Enhance lighting
Mood lighting can significantly influence the mood of your living space. Aim for a combination of natural and artificial lighting to create a sense of balance throughout the living room.
During the day, allow ample natural light to flood through sheer curtains or blinds. When the natural light comes into contact with the textures and tones of the furniture, it will make the room more cosy and live-in.
If you live in a more enclosed space, consider installing wall lights or ceiling lights to create an inviting undertone throughout the space.
Pick table lamps with warm light bulbs for cosy evenings, casting a warm glow to the room and creating a cosy ambience for you to wind down.
If you have hanging ceiling lights, you can just switch out its lampshade! Try something like our rattan lampshades which dim down the intensity of the light and cast a warm glow.
Personalise with photos and artwork
When it comes to making a living room cosy, one of the essential ideas is reducing the amount of open space available. And the best way to do it?
With personal, sentimental items, of course!
Imbuing your unique identity into your interior design will always achieve a homey, lived-in feeling that will be sure to put you and your guests at ease.
Let yourself be creative and original - you can create an eclectic gallery wall with prints of your favourite artists, posters, or vintage finds. Consider sticking up your children's art, or join in and create something with them to personalise your home!
Swan open shelves with a drawer
If you want to keep your walls clear, you can install open shelves to place family portraits, travel memories or artworks with sentimental value.
These personal touches will add character to your living room and create a warm and inviting space!
Introduce natural elements
Bringing nature indoors is a sure way of increasing the cosiness of your room!
Indoor plants are a must in cosy spaces, adding a touch of greenery and fresh air. Try getting self-sufficient plants like succulents or a snake plant so you don't have to worry about forgetting to water them!
Besides that, natural materials like wicker, rattan, stone, and wood can be introduced through furniture pieces or decorative accents to create a warm and organic feel.
Learn how to incorporate rattan accessories into your home! [https://app.surferseo.com/drafts/s/jOET-YTcL5VT70WzUpg3zjFk5ZGALy-C]
Stina small 2 seater rattan sofa
Transforming your living room into a cosy retreat is an achievable goal with the right ideas and elements. Embrace these ideas, and soon you'll have a cosy living room that becomes the perfect haven for relaxation and enjoyment.
Remember, the small details and thoughtful touches make all the difference in creating a cosy atmosphere!
Elevate Your Home Both Inside and Out with Hemma's High-quality Furniture Pieces
Stina rattan small living room set
Hemma Singapore offers you some of the best collections of furniture and accessories that truly make a home stylish and inviting!
Unlike other furniture stores, we've skipped the showroom and focused instead on selling high-quality, sustainable pieces at direct factory prices online. This no-frills approach to furniture shopping and our use of natural materials strengthens our commitment to a greener future.
As a fully online store, we absorb any costs we can to ensure Singaporeans get to have excellent furniture without breaking the bank. Thus, we provide free delivery (T&C applied) directly to your home!
Visit our site now to shop for your favourite pieces!
Read more