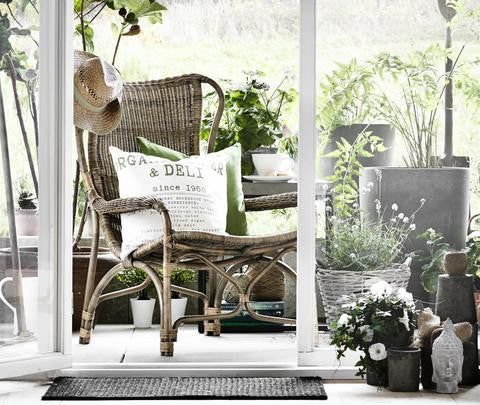 Rattan Furniture in Singapore - Natural or Synthetic?
NATURAL WICKER
Cane and rattan, a natural plant fiber, is both durable and flexible, which makes it a popular material for indoor and outdoor furniture making since long time back.
Natural untreated wicker is not meant for outdoor use and will deteriorate quickly on a patio or deck as sunlight and moisture from rain and heat take their toll on the canes. Coated or finished wicker furniture lasts longer in outdoor settings, since the wicker reeds are coated against the elements. However, exposure to constant sunlight and rain will eventually wear out and break the furniture apart. Rattan lasts far longer on a sheltered balcony, porch or indoors, with proper care it is known to last for generations
Here is some tips on rattan care in our sunny Singapore weather to prolong the life of your furniture.

- Clean gently: Dust the furniture regularly with a soft cloth. Furniture polish is not necessary, but can be used sparingly. 
- Dry wet rattan furniture well. Soaked and damp furniture should wiped with clean cloth and sun dried in the open. In our humid weather mold and mildew can grow quickly in the damp and dark environment. Take care not to bend the furniture while wet, it will generally return to its original shape. It is however recommended to prevent the furniture from getting wet.
- Treat mildew immediately:  If mildew or mold begins to form, remove it with bleach immediatelly. Make sure the furniture is dried thoroughly.
- Vacuum rattan furniture with the brush attachment: Use the brush attachment on a vacuum cleaner on woven and hard to reach parts of the furniture. A dry brush can also be used.
- Lift rattan furniture when moving it:  Don't drag furniture, it might cause splitting to the leg. You can also install foot pads to protect the furniture and your flooring.
- Rotate rattan furniture: Natural fibre fades, this is not necessarily a bad thing, it is a natural process.To ensure that it fades evently, rotate the furniture regularly, you might also consider placing the furniture away from direct sun. 
- Heat: Keep furniture away from prolonged exposure from direct sunlight as rattan can warp and turn brittle from overly drying out. Natural plant fibres require a certain level of humidity so as not to dry out and split.
- Oil rattan furniture: Rattan or cane furniture can be treated with wood oil occassionally to prevent drying up.
SYNTHETIC WICKER

Synthetic wicker is the most durable kind of wicker, It is made of man-made material. PVC, resin and acrylic wicker give the look of natural outdoor wicker patio furniture with more resistance to the elements, making it a better choice for uncovered outdoor space. There are many kind of material and quality for synthetic rattan. Better resin wicker contains UV coatings to resist color fading. Caring for plastic wicker is also very simple. you can wipe the furniture with soft cloth or simply wash it down with water. While all weather furniture of this material preserves its look for a long time, resin doesn't feel like natural wicker nor does it possess the charming irregular character of natural material.