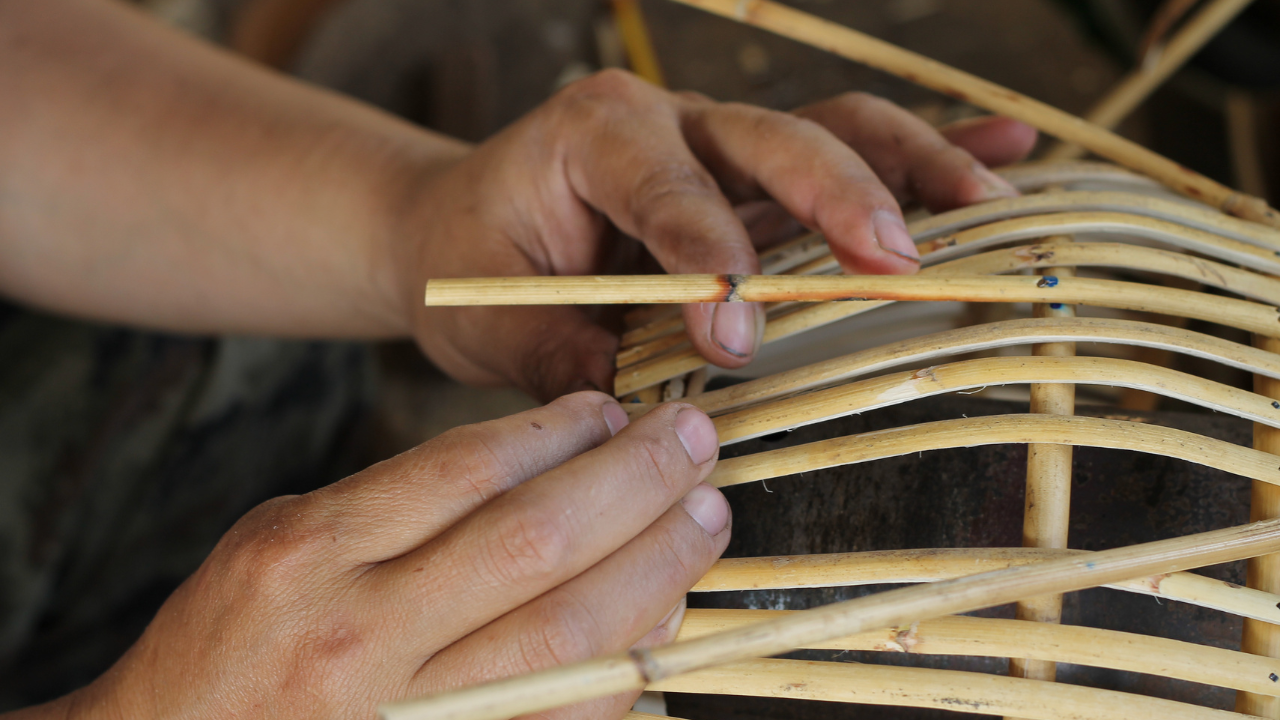 Wicker vs Rattan: What's the Difference?
Regarding furniture and home decor, terms like wicker and rattan are often used interchangeably during conversations. So, it is unsurprising that many would get confused over the meaning of both terms.
That said, wicker and rattan are two completely different things!
Understanding the difference between both materials can help you make informed choices when selecting rattan and wicker furniture pieces for your home.
In this article, we will explore the characteristics of rattan vs wicker and how they differ.
What is wicker?
Wicker refers to a weaving style used to create furniture rather than a specific material. It involves weaving flexible materials together to form a sturdy and durable structure.
While most wicker weaves were made from natural materials in the past, they are now mostly made with synthetic materials, such as synthetic rattan, or coated with a plastic or synthetic resin, making them weather-resistant compared to natural materials.
Hence, it is popular among many Singaporeans when picking outdoor furniture!
The wicker technique became increasingly popular in the early 1900s during the Arts and Craft Movement. The weaving process allowed for intricate patterns and designs, giving wicker furniture a unique aesthetic appeal.
Because of that, wicker furniture is famous for its timeless charm and organic appeal.
What is rattan material?
Rattan, on the other hand, refers to the specific material used in furniture construction. A climbing palm native to tropical regions, rattan canes are known for their flexible and sturdy stems.
Historically, rattan has been used for making sports equipment, weaponry, wicks for essential oils, and homes in rural areas. Today, rattan is the go-to choice when making furniture!
Rattan furniture is made by weaving the pliable rattan core to form the structure of a piece. The natural beauty and durability of rattan make it a popular choice for indoor furniture.
Rattan vs Wicker: Factors to Consider
This section will refer to rattan as a natural material and wicker as a synthetic material for simplicity.
Durability and Strength
Both are popular indoor and outdoor furniture choices due to their lightweight, unique aesthetic appeal and ability to withstand various weather conditions.
The strong rattan cores allow rattan furniture to withstand a fair amount of weight. However, it might not hold up as well under harsh weather conditions.
On the other hand, synthetic wicker materials are designed to resist fading, cracking, and peeling and can be more durable for outdoor use.
Weather Resistance
If you plan on using the furniture outdoors, synthetic wicker is usually a better choice. It's specifically designed to withstand harsh weather conditions like heavy rain and intense sunlight.
Natural wicker can be used outdoors but in sheltered areas without direct sunlight or rain exposure. If exposed to the elements for prolonged periods, it tends to weather faster and deteriorate.
Maintenance
Synthetic wicker furniture generally requires less maintenance than natural rattan.
It can easily be cleaned with a cloth and mild soapy water. Rattan furniture, while still relatively easy to maintain, may require occasional treatment to prevent cracking or splitting.
Learn more about rattan care here! [https://app.surferseo.com/drafts/s/kcpU-uWQtdFZg1h9FS-6h0Rq-19FMwHO]
Environment
Natural rattan may be a better choice if you're concerned about sustainability. It's a renewable resource, and the harvest of rattan vines can be done to promote the health of the forest where it grows.
Synthetic wicker is usually made from non-renewable petroleum-based products, although some brands use recycled materials.
So which is better?
Ultimately, it all comes down to your choice of style and intended use when shopping for either wicker or rattan furniture.
Both can add a touch of elegance and beauty to your living space, providing you with stylish and comfortable furniture options.
Remember to consider the specific needs of your space and personal preferences - when it comes down to it, the best choice is what makes you happy!
The Best Online Furniture Store for Rattan and Wicker Furniture
At Hemma Singapore, we are all about curating a collection of high-quality, sustainable furniture and accessories at direct factory prices.
This no-frills approach to furniture shopping and using natural materials strengthens our commitment to a greener future. We promise to give you the best experience possible while being fully online!
Best of all, we absorb any costs to ensure you have excellent furniture without breaking the bank. Thus, we provide free delivery (T&C applied) directly to your home!
Start shopping today!